By Walter Otieno
The Covid-19 pandemic is having a devastating effect on poor Kenyan communities. Schools were closed for a long time and access to health services are very limited in many Kenyan communities. Kenyans living in poor slum areas are more vulnerable to contracting the Coronavirus, because they live in densely populated areas, lack sanitary facilities and access to water. Most people cannot afford buying facemask, which the government is now asking everyone to wear in public. Many people also cannot afford soap or to stay at home, because they somehow need to make a living. Another key problem in fighting the spread of Covid-19 is that many people, and children in particular, do not have access to information of how to avoid getting the virus.
AfriNov has been receiving many worrying calls from the various grassroots groups we work with. Many groups asked us to help them spread live-saving messages to their communities. In Kisumu County, we collaborated with a local group called "Winam Bethany" and helped them reach out to the Gonda Community, a slum setup in Kisumu with a population of 14,545 people.
AfriNov helped the group to plan a community outreach campaign in order to boost the messaging campaign by local authorities. The messages were in line with government directives on COVID-19 prevention that encourages hand sanitization, proper use of facemask, staying at home and observing social distancing. In close collaboration with the local health and administrative authorities, members of Winam Bethany moved door-to-door reaching out to families and sharing key information about how to prevent the Coronavirus from spreading.
The team also distributed fliers with child-friendly messages and pictures, which explain what the virus is and how to stop it from spreading in the congested slum areas. Our friends from Winam Bethany also reminded everyone how to properly wash their hands, how to wear facemasks and how to maintain social distance to others.
AfriNov supported the team in planning the activities and paying for their transport and in some cases AfriNov provided washable facemasks, liquid soap. AfriNov also helped in printing the information fliers that were all given out during the group's action. In total, Winam Bethany CBO, was able to reach 100 households with information fliers on COVID-19 prevention. The community group also distributed 89 rewashable facemasks, liquid soap, and information fliers to vulnerable households in Gonda slum community.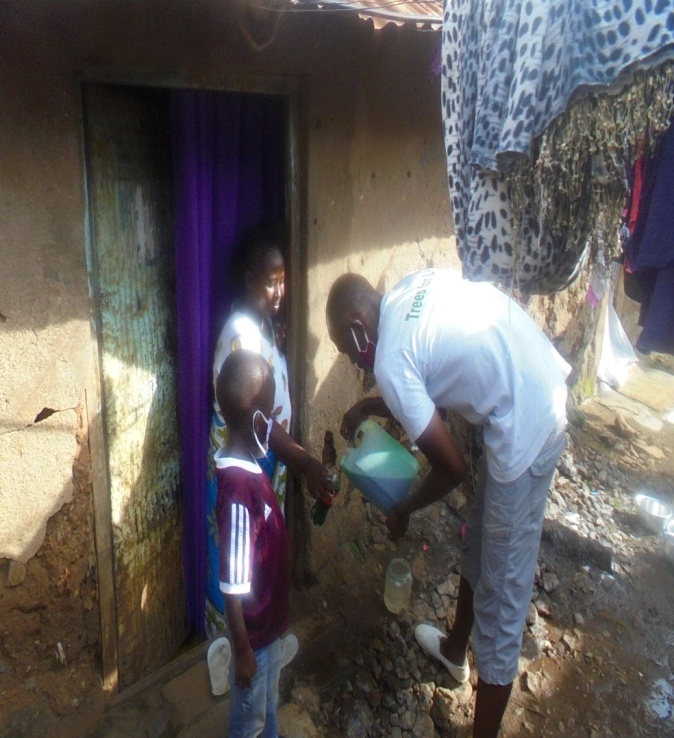 One woman reached by the campaign said: "The work being done by the community group in informing our community about the virus is welcome and needed. Our community is poor, and this virus problem has made most families lose their jobs and income. It is great that someone had thought of us."
With the initial success of the campaign, AfriNov will continue to work closely together with the Winam Bethany group. This support will also involve advising them on their campaign work that seeks to tackle the crisis of early pregnancy and child prostitution.