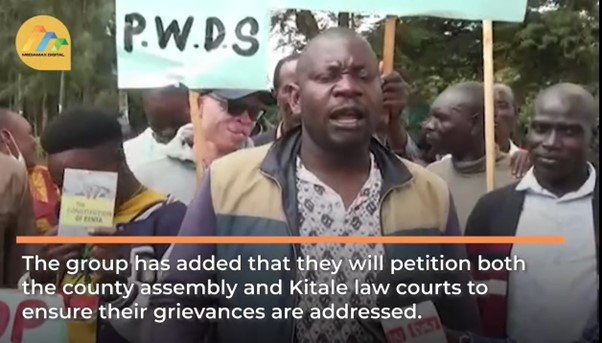 Amplifying the Unheard Voices of People with Disabilities in Governance and participation in Community Affairs
Africa Center for Nonviolence and Sustainable Impact- AfriNov is a peace-building and nonviolence training and advocacy organization based in Kenya working with grassroots groups and communities. Through the support of local and international development partners. AfriNOV has been carrying out community activities that improves and transforms the lives of people in some targeted communities.
AfriNOV's theory of change has the assumption that once a community has the skills and knowledge to challenge injustices, they gain agency and voice to advocate for self through challenging the prevailing powerful groups of people in leadership and service delivery.
The locally formed and led organization uses the Turning the Tide program approach which is a nonviolence training and advocacy approach that introduces Kenyan grassroots groups and organizations to nonviolent approaches for social action in challenging social, political and economic injustices by engaging those in power from the grass root level through nonviolent campaigns.
The approach gives skills for social accountability which empower citizens and community-based organizations to identify social injustices rooted in structural systems and respond using non-violent approaches.  They also equip communities to hold their governments accountable for the promises they make by improving dialogue and relationships between communities, service providers, and governments.
In Kenya, the constitution 2010 has laid a solid foundation for political participation and representation of Persons with Disabilities (PWDs). However, the battle for an inclusive society is yet to be won. There are documented reports of high exclusion of PWDs in the areas of political representation in elective and appointed positions, with limited efforts by political parties to provide a conducive environment for persons with disabilities to engage in politics. Civil society organization continue to remain vigilant to the fact that there's so much work to be done in this quest for inclusivity of persons with disabilities. The initiative to work with PWDs is part of the quest to increase inclusivity and diversity in the society for a better tomorrow. Increased awareness on their disability rights and entitlements resulting in seeking for services from the government and local institutions has been AfriNov's' objective.
Building the capacity of PWDs grass-root groups has enabled them to successfully facilitate community engagement tackling social injustices of representation, equitable resource distribution, access affirmative action funds etc
In the run up to the 2022 elections AfriNOV supported groups to be trained on civic education.  Some of the groups conducted leaders vetting exercises which gave them an opportunity to interrogate their leaders on strategies put in place in their manifestos to enhance inclusion of PWDs in governance.
Increased involvement in local democracy and political participation of individuals and community groups:
There is reported increase in number of PWDs who participated in peaceful and transparent electoral processes through enhanced voter participation and inclusion in the 2022 general elections. Members from AfriNov affiliated groups ran for political positions and some applied for nomination at political party level.
Empowered and mobilized citizens with strengthened community group voices
The review of reports has established that there is a realization among the PWDs community groups that for a long time had abdicated their role of participation in governance which resulted in poor service delivery. Most of the groups admit that the gaps in service delivery were as a result of lack of knowledge which suppressed their ability to demand "demand" for quality services. Once they started engagement with the authorities' service delivery has improved. Community groups now have a platform to articulate demands and dialogue and interface with duty bearers: The gap in information had denied groups the ability to stand up for themselves.
Strengthened collaboration and networking between partners
Increased capacity to network and collaborate and learning: Built and enhanced relationships and trust between citizens and institutions (at local, regional and national levels. Many examples of PWDs groups are currently collaborating with and complementing local authorities. In exercise of their ability to learn and apply their ownership of Turning the Tide skills and knowledge.
Success stories
Most PWDs have limited access to information due to low levels of education and curtailed/limited exposure and movement.
Muungano self help group in its inception stages got a chance to receive Turning the Tide training. As a result, the group identified in details the social injustices challenging efforts of disability inclusion in the community. It was then that they established that despite the government rolling out funding to support people with disabilities, the procedures and requirements of access remained unclear. On work and employment, they observed that their disability had affected their individual earnings and household income due to challenges accessing formal employment, they also faced barriers to informal work and self-employment due to exclusion from micro-credit schemes.
After the training the group embarked on a social campaign to change their fortunes armed with the training, campaign strategies and a promise from AfriNOV to walk with them. The group leveraged on Turning the Tide skills to break barriers to financial access and empowerment of people with disabilities. This has seen them expand from nothing to a recognized and an expanding business owning group. The group also started to seek information on available opportunities for income generation. They have been able to apply for several government grants and affirmative funds. They have built partnerships with local organizations, local leaders and government officials. The group has distinguished itself as the most improved PWD grassroots group in Nairobi region.
According to the Chairman Mr Mwangi:
"Our group has come from far. Ours is a testimony of grass to grace. Muungano group for the disabled is AfriNov baby. They have seen us through registration, our first campaign, our first affirmative action grant was as a result of Turning the Tide training from AfriNov. Our eyes were opened. We now have a voice! In the past we were on the table as a menu but after the training on challenging social injustices we are actively taking over the table."
"I have immensely benefited from AfriNOV democracy and governance training. After learning on the many ways that we PWDs could participate I embarked on a plan to be elected into political leadership. The more information I got the more confident I became. I was part of the Azimo Coalition (a political formation in the last general elections) even though I didn't clinch the party ticket, I am pleased with my participation and I have a new outlook towards leadership. I am as capable as anyone else. I am now open to take up any other leadership role in my community. I am a winner!!" says one of the members of the PWDs group.
"The days running up to the last general election and after election were charged with emotions. As PWDs the 2022 election saw the highest number of PWDs interest in participating and also running for political representation seats. As a group some of our members applied for nominations and were promised the same if the party fared well in elections. Well this was not to be when elections were done. One of our members was denied the nomination and he was replaced. After realizing the injustice and political alienation and discrimination of one of our PWDs being short changed we got charged. An injustice anywhere is a threat to justice everywhere. It has been a roller-coaster. We put all our Turning the Tide skills into action. We mobilized for collective action on the streets with banners. We were not relenting. We may have been unsuccessful due to timelines and technicalities but we are not letting up. This act of speaking out against injustice has really amplified our voice, presence and we have earned respect. We are unbowed. Aluta continua!" testifies another group leader that has benefited from the Turning the Tide program on nonviolence campaigning.
Due to the training received PWDs have become very courageous and unbowed because giving up is not an option in the quest for justice.
The below quote has become their mantra as they forge ahead to ensure sustainable peace and justice in their respective communities.
In keeping silent about evil, in burying it so deep within us that no sign of it appears on the surface, we are implanting it, and it will rise up a thousand-fold in the future. When we neither punish nor reproach evildoers, we are not simply protecting their trivial old age, we are thereby ripping the foundations of justice from beneath new generations.
The Gulag Archipelago 1918–1956
Related Post